Anthony Proietta
Anthony Proietta is an 11 year veteran of the Greenville County Sheriff's Office. Anthony has extensive experience investigating all types of crime after spending spent many years as a uniformed patrol officer and field training officer, before being promoted to investigator.
His experience as a patrol officer developed a common sense approach to people that is useful in all aspects of investigation. He was assigned as a criminal investigator at the rank of Master Deputy, specializing in crimes involving juveniles and child abuse. He has vast experience testifying in both Family Court and General Sessions Court, making him a sought-after professional. Anthony is specially trained in interview and interrogation, juvenile investigations and gang investigations. During his tenure at the Greenville County Sheriff's Office Anthony was awarded the Medal of Valor and honored for Distinguished Service. Anthony went into private practice in April 2002 utilizing his experience as an investigator to provide professional investigative services to attorneys and the general public.
Anthony experience as a Private Investigator includes of adultery and child custody issues, surveillance, criminal and civil investigations, and service of civil process. Anthony is a graduate of the South Carolina Criminal Justice Academy, and he holds a Bachelor of Science from the State University of New York College At Fredonia.
Anthony Proietta & Associates Investigations, LLC utilizes state of the art G.P.S. tracking equipment and covert micro cameras. The company invests in the latest technology to ensure that all available means have been utilized to bring your case to a proper investigative conclusion. All case files are prepared to be court room ready, with video and/or digital photos included.
Charlene F. Proietta & Ashleigh Andrews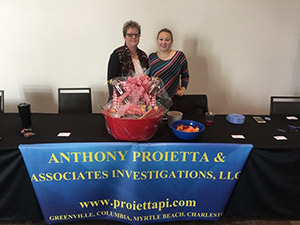 Charlene Proietta and Ashleigh Andrews specialize in Skip Tracing and Information Services. Charlene and Ashleigh have experience locating hard to find individuals and entities. The company maintains a computer data base of the finest information service providers in the industry, as well as utilizing all available public record searches. Charlene and Ashleigh are the best in the business when it comes to comprehensive background checks and they leave no stone unturned.
Other Services:
Anthony Proietta Bonding Company serving Greenville since 2005, closed several years ago to focus more on private investigations and high-quality profession private and contract security..
Anthony provides the finest security services in South Carolina, launching AP Professional Security in 2008.
Services Offered:
Adultery
Background Investigations
Child Custody
Civil Investigations
Computer Forensics
Criminal Investigations
Insurance Claims Investigations
Process Serving
Skip Tracing
Workers Compensation
Claims Investigations
Related Investigative Services:
G.P.S. tracking
Covert wireless video
Mobile Notary Public
Information services, including but not limited to:
Unlisted telephone trace
Criminal background checks
Civil background checks i.e., judgments and liens
Personal profiles of individuals
Asset checks
Records retrieval